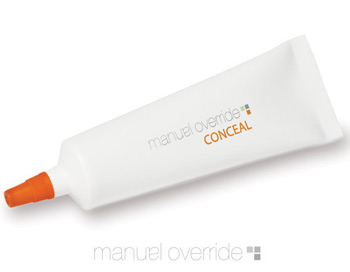 My mom is a huge fan of
QVC
and happened to see the launch of Jay Manuel's (of America's Next Top Model) makeup line,
Manual Override Comestics
, and had the urge to buy me something.
She ordered me the "Manual Override Conceal," which arrived in the mail today. It's a nice sized tube. I put a dab of it on a blemish on my face and so far I am pretty impressed. The formula is creamy yet light and does deliver coverage. It should be applied after you put on your foundation.
Then I really decided to put it to the test.
According to the brochure that came with the concealer, this product can conceal dark circles, age spots, freckles, and anywhere you have uneven skin-tone. Plus, the conceal should last all day (we'll see about that) and does not settle into lines, wrinkles, and pores. I used the formula to cover up my freckles, as you can see above in the before and after.
What do you think of the results?
Certainly not a miracle serum, but also not too shabby for $19!